Police Badges
Seattle Police Badges from the Wortman Collection
#11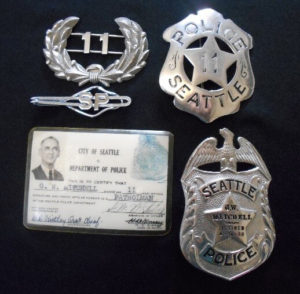 Seattle Police Badge #11
Seattle Police Officer G. W. Mitchell retired April 16, 1950. He was originally issued badge number 11. His breast badge and hat badge and Identification card are pictured here. Based on his retirement date, he should have been one of the 614 police officers in the Seattle Police Department in 1943.
The Seattle design was changed around 1950, but the badges continued to be used for reserve officers until 1972. Some of the badges were recycled to the Mounted unit to identify saddles, bridles and other uses.
Annual Report, Seattle Police Department, Chief H. D. Kimsey, 1943
Retired
The Seattle design was changed around 1950 and Mitchell retired with the new badge design on April 16, 1950.
Matron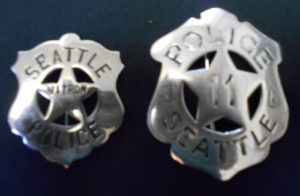 Seattle Matron Badge
The badge issued to police matrons resembled the police officer's badge, but was smaller. Police Matrons were designated differently than Police Woman in the 1943 Annual Report. There were apparently 7 Matron's attached to the jail or juvenile divisions
Note matron badge slightly smaller than patrolman badge.
#1481 & #6078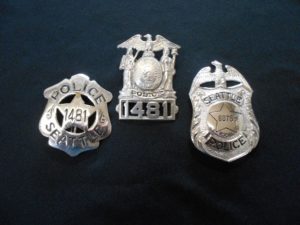 Badge 1484 and 6078
Badge set issued to Ed Wortman as a Seattle Police reserve officer in early 1972. In early 1973 the 6000 number set was designated for reserve and a new badge issued to Wortman, #6078.
Seattle Park Police 107 and 137
Seattle Parks were patrolled in the 1940's by special officers and issued specially designed badges identified with Seattle Park Police.
Tie bar, for police officer with the SP logo for Seattle Police
Tie bar, for Seattle Park Police
Shooting medal, 1937
NRA shooting medal 1940's
Various lapel pins for Seattle Police
Seattle Special Police badge 392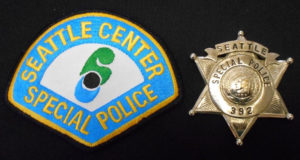 Seattle Police Badge
Issued to civil enforcement units of City Government in 1970's. These included license enforcement though the City Comptroller's office and Seattle Center protection. This badge issued in 1973 through the Comptroller's office. This design no longer used.
Seattle Crossing Guard 46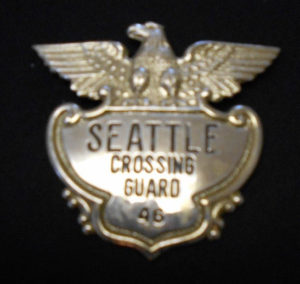 Seattle Crossing Guard
Hat badge only issued to School Crossing Guards in the 1960-1970 period, only a hat badge was issued. The badge carried no official police powers and this design is no longer used.
Obsolete Badges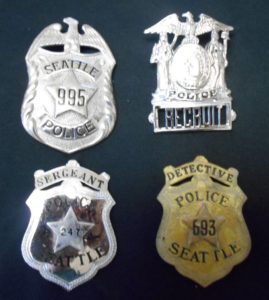 Obsolete Badges
Examples of obsolete badges of the Seattle Police department, one showing a botched attempt to plate the Detective badge in some type of gold covering.