People in Law Enforcement
Joseph Meek
First U.S. Marshal – Oregon Territory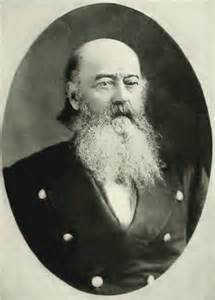 Joseph Meek
February 9, 1810 – born in Washington County, Virginia, February 9, 1810.
1829 – 1840 – adventurer and trapper in the Rocky Mountains.
1843 – Sheriff of Provisional Government in Oregon.
1846 – 1847 – Legislator in the Provisional Government.
1848 – 1853 – Appointed first US Marshal by President James Polk.
June 20, 1875 – died on his farm near Hillsboro, Oregon.
Murry Brooks
Veteran, Teacher, Lawman
April 22,1925 – March 26, 2002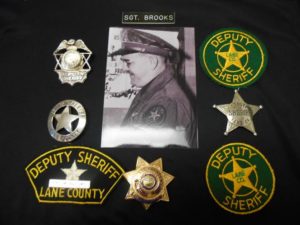 Murry Brooks
A Teacher and a Lawman
Murry Brooks was born in Centralia, Washington, graduated from Bremerton High School and served as an air gunner in B-17 aircraft during WWII. Upon his return from service, he graduated from Central Washington College of Education in Ellensburg and started his parallel teaching and law enforcement careers. As he told the story, there was no teaching job available so he went to work for Morrow County as a deputy. This meant providing his own uniform and weapon. He bought a used pistol, a used shotgun and really wanted the used rifle, but had to save several months to buy it. Both weapons were originally sold by Barker Gun Works in Eugene, Oregon (1988-1903). Brooks said he wanted the rifle because it was the same caliber as his handgun and shot straight.
Brooks worked for Morrow County and the City of Lebanon, Oregon (1955-1956) before landing a teaching job in Eugene for the beginning of the 1956 school year. He settled with his wife, also a teacher, in Eugene. That same year he joined the Lane County Sheriff's Reserve where he met Ed Wortman in 1965 while both were volunteer instructors for the Oregon Hunter Safety Program in Eugene.
Come and See His Favorite Weapons
By that time, Brooks was carrying a Colt Python.357 magnum, as prescribed by the Sheriff's office and the old .44 pistol was long gone. Brooks, now promoted to Reserve Sergeant, continued to carry the old shotgun until his retirement from the Sheriff's office in 1969.
Today I am pleased to have these last three weapons in the police collection for public enjoyment. As you look at these weapons you may see how much police weapons have changed to meet the changing nature of the mission and the threat presented by the criminal element.
After his retirement from teaching he drove bus for a period of years, worked with local collectors as an officer in the Willamette Valley Arms Collectors and amassed a large John Wayne collection. Through this display we honor the Teacher, the Lawman and the man himself.
Henry Fielding and Sir John Fielding
Henry Fielding (4/22/1707 – 10/8/1754)
Who Were the Bow Street Runners?
Well-known as a playwright and author, and considered to be the founder of the English novel, Henry Fielding is also known as the founder of the Bow Street Runners. In 1749, during a post-war crime wave, he created the Bow Street Runners (so called because their base of operation was at Fielding's home on Bow Street) by paying retainers to a group of constables and ex-constables. Their job was to locate and arrest serious offenders, and they were entitled to claim the government rewards payable on conviction.
John Fielding 1721 – 9/4/1780
A Blind Judge Who Recognized Voices
Sir John Fielding, half-brother of Henry Fielding, was also involved in reforms of the criminal justice system in England. He helped his brother found the Bow Street Runners and a "pioneer in the treatment of juvenile offenders." Although he was blind from the age of 19, he was appointed as a magistrate in London in the middle 1700's, and was said to be able to recognize 3,000 criminals by the sound of their voice.
Theodore "Teddy" Roosevelt
10/1858 – 1/6/1919
A Police Commissioner First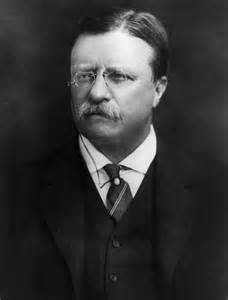 Theodore Teddy Roosevelt
Although most famous as the 26th president of the United States, Teddy Roosevelt was also the president of the New York City Police Commissioners from 1895 to 1897. He turned around a corrupt police force by establishing new disciplinary rules, creating a bicycle squad to tackle traffic problems, standardizing officers' pistol use, implementing firearm inspections and physical exams and hiring 1,600 new recruits based solely on physical and mental qualifications.
Wyatt Earp
Who Started the Gunfight at the OK Corral?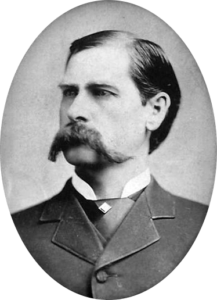 Wyatt Earp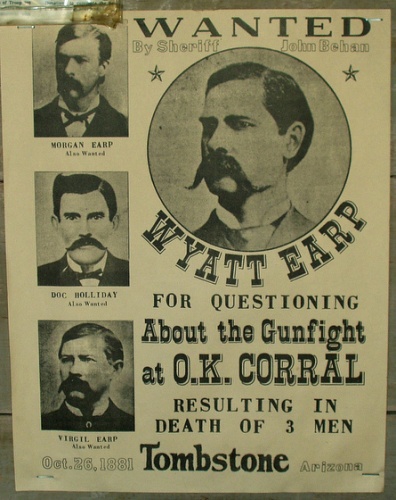 Wyatt Earp Wanted Poster
Wyatt Earp is one of the beloved western lawman legends. Like most legends however, what we think we know isn't always fact. Until relatively recently, movies and books have depicted the Gunfight at the OK Corral as a righteous gun fight between the the Earp brothers (with Doc Holiday) and outlaw cowboys. Few people realize, however, that not only was the fight no where in the vicinity of the O. K. Corral, but the first gunshots likely came from the Earps, and Wyatt Earp and Doc Holiday were put on trial (albeit acquitted) for the murder of Tom and Frank McLaury and Billy Clanton. Many contemporary local accounts found fault with Earp, but little was actually widely known until Stuart Lake published the first major biography of Earp in 1931, which Lake later acknowledged in part "invented".
For a lighter touch, read more about the legend who loved ice cream, knew John Wayne, and was never injured in a gun fight.
Henry Andrew "Heck" Thomas
(1/6/1850 – 8/15/1912)
A Battlefield Messenger at 12 Years Old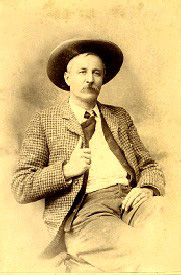 Henry Andrew "Heck" Thomas
In 1862 Thomas became a messenger in his father's unit of the Thirty-fifth Regiment, Georgia Volunteers (CS). He delivered dispatches at the Second Battle of Bull Run. After the war, his father became city marshal of Atlanta, Georgia, and Thomas gained an appointment as a policeman. In 1886, Thomas received a commission as deputy from U.S. Deputy Marshal Thomas Boles to police Indian Territory under the jurisdiction of the federal district court at Fort Smith. As a recognized law enforcement professional, the rest of Thomas's career was in Oklahoma Territory. He received a commission from the U.S. Marshal at Guthrie, Oklahoma Territory. Between the spring of 1894 and the summer of 1896, Thomas, Chris Madsen, and William M. "Bill" Tilghman — known as the "Three Guardsmen" — concentrated on successfully exterminating the Bill Doolin Gang. In 1901, the U.S. Marshal Service dispatched Thomas to Lawton to assist with the land opening there. The next year, voters elected him the first chief of police of that town, a position he held for seven years. He retained his marshal's commission, and his family resided in Lawton until his death. Taken from Encyclopedia of Arkansas.net.
For additional information on Heck Thomas, considered to be "one of the wild west's most effective lawmen, apprehending dozens of notorious outlaws including members of the Doolin, Dalton, and Sam Bass Gangs", see LegendsofAmerica.com.