About the Museum

Thanks to the collection of retired Chief of Police Ed Wortman we are able to showcase nearly all aspects of the law enforcement profession. The museum includes displays of uniforms from around the world, a variety of weapons used throughout the history of policing, and tools that have been fundamental in the police occupation.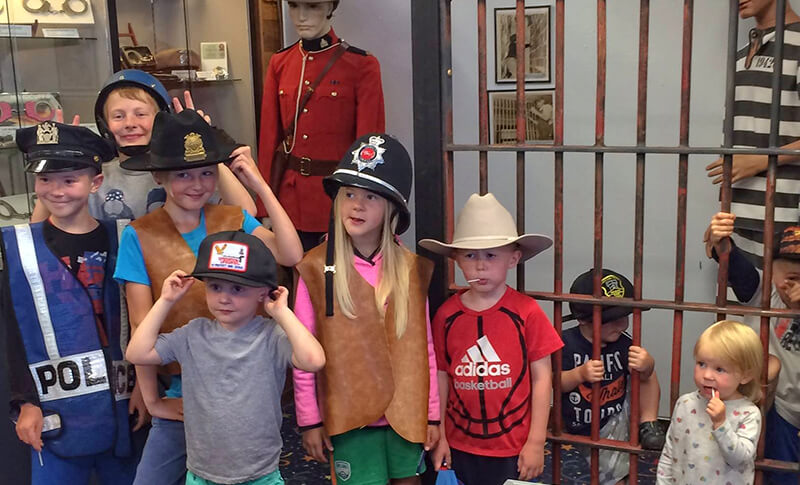 Our youth interactive area allows children of all ages to try on real police gear, get their fingerprints taken, and take a photo with "Fred", our life size horse mannequin.
Our informed staff is prepared to teach you about the history of policing and answer any questions you may have. We provide information about police communications, our collection of evidence and fingerprints, and the differences between a weapon used as a tool and one used as a threat.
News and Announcements
December Newsletter
The December 2023 edition of the IPM Scanner is now available. Click here to view it.
International Police Museum (IPM) Returns to Rockaway Beach
Read the announcement in the Tillamook Headlight Herald about IPM returning to Rockaway Beach. Click here to view the article.
More News
Click here to view all past and present news items.
IPM featured on "Mysteries at the Museum"

IPM Kids
We have a special section of our website with a few fun activities especially for our younger visitors. We hope you will enjoy the features on this page!
Click here to visit the IPM Kids page.

Support the Museum
We are a 501(c)3 non-profit organization with no paid employees. 100% of your donations go to maintain the museum and creating new displays. We need the finacial support to grow and continue our operations. There are several ways in which you can help support the museum:
Become a Friend of the Museum
Contribute using the Fred Meyer Rewards Program
Donate at any U.S. Bank
Support the museum through the Oregon Cultural Trust
Contribute directly using PayPal
Grow the museum by telling your family and friends about us
Click here for more information.

Volunteer
International Police Museum needs and appreciates its volunteers. There are a number of volunteer positions where the gift of your time can help us:
Front-desk volunteer
Docent
Fundraising volunteer
Community outreach volunteer
Education program volunteer
Exhibit volunteer
Public relations volunteer
Newsletter volunteer
Click here for more information.